Progetto
Anthilia SGR, in line with the benefits introduced by the «Liquidity Decre», has finalized, in agreement with Finint Sgr, a financial support operation in favor of Clabo SpA, a world leader in the sector of professional display windows in the restaurant and hotel sectors and listed on the AIM Italia market of Borsa Italiana.
Clabo's request for new finance, guaranteed by Anthilia Capital Partners and Finint Investments Sgr for a total value of € 6 million, provided in detail:
The renegotiation of the € 8 million bond loan already underwritten for € 5 million by Anthilia BIT III and for and 3 million by Finint Investments Sgr;
The disbursement of new finance for € 0.8 million;
The disbursement of new loans in private lending covered by 90% SACE guarantee for a total value of € 5.2 million – € 3.25 million by Anthilia and € 1.95 million by Finint – with a duration of 72 months, including 24 months of pre-amortization.
The transaction will provide additional impetus and financial support for the development of the Company's 2020-2022 business plan, prepared with the aim of providing a response to the new and changed market context. In particular, the new industrial plan envisages the rationalization of the internal organizational processes, the review of the lay-outs of the Italian and Chinese plants as well as the purchasing and inventory management processes, and the development of new product lines complementary to the current ones, expanding the offer in the field of showcases and furnishings in the "small retail" segment.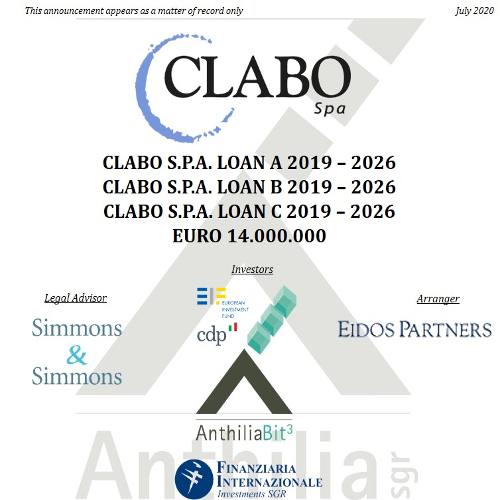 | | |
| --- | --- |
| Emittente | Clabo |
| Sottoscrizione Anthilia | 8,75 mln € |
| Durata | 6 anni |
| Cedola | n.d. |
| Rimborso | Ammortamento a partire dal 3° anno |
| Garanzie | Fondo Centrale di Garanzia, SACE, cash collateral |
| Quotazione | Private Placement |
Documenti