Progetto
Anthilia BIT III and Anthilia BIT IV Co-Investment Fund disbursed a package of loans for a total of € 6 million in favor of the Orva Group, one of the main Italian players in the bread replacement sector. In detail, the pool of loans was structured through:
The disbursement of € 4.9 million, with a duration of 6 years and an amortising repayment with 24/36 months of pre-amortization, which benefited from the guarantee of the Mediocredito Centrale Central Guarantee Fund and the Italian Guarantee of SACE;
The disbursement of € 1.1 million unsecured with a duration of 7 years and bullet reimbursement.
The operation aims to give further impetus to the growth recorded by the Group in recent years, in a market context renewed by the Covid emergency, but which presents stimulating development opportunities for Orva. In particular, the loans are aimed at increasing production capacity, with particular reference to the line of gluten-free products.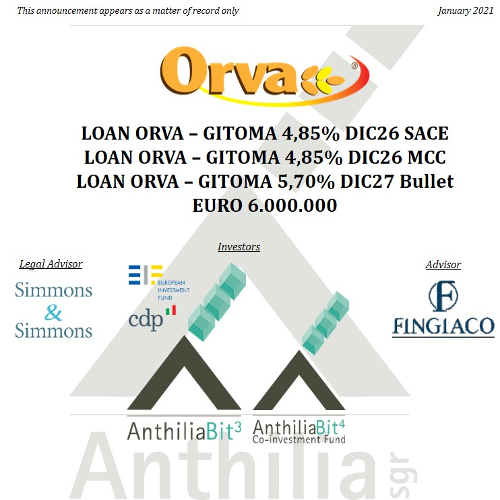 | | |
| --- | --- |
| Emittente | Orva |
| Sottoscrizione Anthilia | 6 mln € |
| Durata | 6-7 anni |
| Cedola | 4,85% - 5,70% trimestrale |
| Rimborso | Ammortamento a partire dal 2° e 3° anno; bullet |
| Garanzie | Fondo Centrale di Garanzia, SACE |
| Quotazione | Private Placement |
Documenti